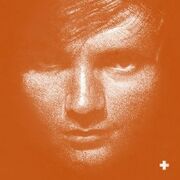 +
is the debut studio album by English singer-songwriter Ed Sheeran, released through Atlantic Records on 9 September 2011. The album marks Sheeran's commercial breakthrough, having previously released five EPs independently. Jake Gosling produced the majority of the album, with additional production coming from acclaimed American hip hop producer No I.D..
Upon release, + debuted atop of the UK Albums Chart with first-week sales exceeding 102,000 copies. Media interest surrounding + was fuelled significantly by its two preceding singles—"The A Team" and "You Need Me, I Don't Need You"—which peaked at number three and number four on the UK Singles Chart respectively.
Track listing
Edit
Standard edition
No.
Title
Writer(s)
Length
1.
"The A Team"
Ed Sheeran
4:18
2.
"Drunk"
Ed Sheeran, Gosling
3:20
3.
"U.N.I."
Ed Sheeran, Gosling
3:48
4.
"Grade 8"
Ed Sheeran
2:59
5.
"Wake Me Up"
Ed Sheeran, Gosling
3:49
6.
"Small Bump"
Ed Sheeran
4:19
7.
"This"
Ed Sheeran, Gordon Mills jnr
3:15
8.
"The City"
Sheeran, Gosling
3:54
9.
"Lego House"
Sheeran, Gosling, Chris Leonard
3:05
10.
"You Need Me, I Don't Need You"
Ed Sheeran
3:40
11.
"Kiss Me"
Ed Sheeran, Julie Frost
4:40
12.
"Give Me Love" (includes hidden track "The Parting Glass": starts at 5:49)
Sheeran, Gosling, Leonard
8:46
1 people own this album. 

If you own this album, change the number to one higher!