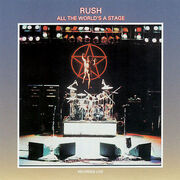 All The World's A Stage
is the first live album by the Canadian progressive rock band
Rush
. It was recorded during their
2112
tour and contains songs from their first four albums. It was released on September 29, 1976.
Track Listing
Edit
1. Bastille Day
2. Anthem
3. Fly By Night/In The Mood
4. Something For Nothing
5. Lakeside Park
6. 2112
I. Overture
II. The Temples of Syrinx
III. Presentation
IV. Soliloquy
V. Grand Finale
7. By-Tor and the Snow Dog
I. At the Tobes of Hades
II. Across the Styx
III. Of the Battle

a. Challenge and Defense
b. 7/4 War Furor
c. Aftermath
d. Hymn of Triumph

IV. Epilogue
8. In the End
9. Working Man/Finding my Way
10. What You're Doing
Personnel
Edit
0 people own this album. 

If you own this album, change the number to one higher!

Community content is available under
CC-BY-SA
unless otherwise noted.