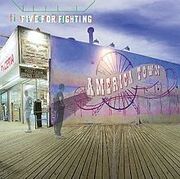 America Town
is an album by
Five for Fighting
that was released on September 26, 2000. It contains 12 songs and one hidden song.
Tracklisting
Edit
1. Easy Tonight
2. Bloody Mary (A Note on Apathy)
3. Superman (It's Not Easy)
4. America Town
5. Something About You
6. Jainy
7. Michael Jordan
8. Out of Love
9. The Last Great American
10. Love Song
11. Boat Parade
12. Alright
(Hidden song ["Do You Mind?"] at approximately 3:49 in the song "Alright")
1 people own this album. 

If you own this album, change the number to one higher!