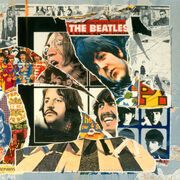 Anthology 3 is the third and final album in The Beatles' Anthology series. It was released on 28 October 1996 by Apple Records. It contains rarities and outakes from the years 1968 to 1970 and contains songs from The Beatles final three albums. It includes songs from the famous rooftop concert on Apple Studios. The album was a success like the two before it.
Tracklisting
Edit
A Beginning
Happiness is A Warm Gun
Helter Skelter
Mean Mr. Mustard
Polythene Pam
Glass Onion
Junk
Piggies
Honey Pie
Don't Pass Me By
Obladi, Oblada
Good Night
Cry Baby Cry
Blackbird
Sexy Sadie
While My Guitar Gently Weeps
Hey Jude
Not Guilty
Mother Nature's Son
Glass Onion
Rocky Raccoon
What's the New Mary Jane
Step Inside Love/Los Paranois
I'm So Tired
I Will
Why Don't We Do it In the Road?
Julia
I've Got a Feeling
She Came in Through the Bathroom Window
Dig a Pony
Two of Us
For you Blue
Teddy Boy
Rip it Up/Shake, Rattle and Roll/Blue Suede Shoes
The Long And Winding Road
Oh! Darling
All Things Must Pass
Mailman, Bring Me No More Blues
Get Back
Old Brown Shoe
Octopus's Garden
Maxwell's Silver Hammer
Something
Come Together
Come And Get it
Ain't She Sweet
Because
Let It Be
I Me Mine
The End
2 people own this album. 

If you own this album, change the number to one higher!

Community content is available under
CC-BY-SA
unless otherwise noted.