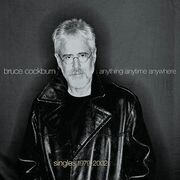 Anything Anytime Anywhere: Singles 1979-2002
is a compilation album by
Bruce Cockburn
. It was released in 2002.
Tracklisting
Edit
My Beat [4:34]
Wondering Where The Lions Are [3:42]
Tokyo [3:28]
The Coldest Night Of The Year [4:24]
The Trouble With Normal [3:35]
Lovers In A Dangerous Time [4:06]
If I Had A Rocket Launcher [4:57]
Call It Democracy [3:51]
Waiting For A Miracle [3:50]
If A Tree Falls [5:42]
A Dream Like Mine [4:55]
Listen For The Laugh [4:05]
Night Train [6:11]
Pacing The Cage [4:37]
Last Night Of The World [4:50]
Anything Anytime Anywhere [3:33]
0 people own this album. 

If you own this album, change the number to one higher!

Community content is available under
CC-BY-SA
unless otherwise noted.