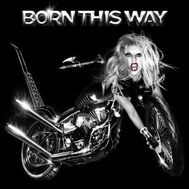 Born This Way is the third studio album by pop singer Lady Gaga. The album was released on May 23rd 2011.
Tracklisting
Edit
Marry The Night
Born This Way
Government Hooker
Judas
Americano
Hair
S

ch

eiße
Bloody Mary
Bad Kids
Highway Unicorn (Road To Love)
Heavy Metal Lover
Electric Chapel
You And I
The Edge Of Glory
0 people own this album. 

If you own this album, change the number to one higher!