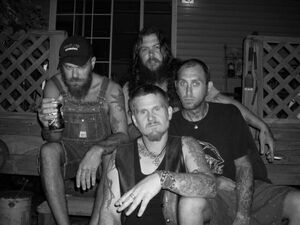 Buzzoven (typeset Buzzov•en) is a sludge metal band from North Carolina, formed in 1991. The band was known for being one of the founders of the sludge genre along with NOLA's Eyehategod and Acid Bath, and also for their out-of-control and violent live shows. The band in its early days toured heavily around the United States and built up a cult following leading up to the release of their debut album, To a Frown (1993), which caught the attention of Roadrunner Records, who released the band's second album Sore (1994). The band was dropped by Roadrunner, and from then on have gone through several periods of being split-up and reformed, with the only constant member having been Kirk Fisher. Dave Collins now heads sludge band Weedeater.
In early 2010 Buzzoven announced plans to reunite with the ...At a Loss core line-up for a five date U.S. tour. The band has since parted ways but is expected to reunite again in 2014, possibly with some other original members. Despite Fisher's ongoing problems with bipolar disorder and addiction he remains hopeful about Buzzoven's future and his on-going solo career.
Discography
Edit
Studio albums
EPs
Community content is available under
CC-BY-SA
unless otherwise noted.