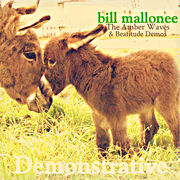 Demonstrative (The Amber Waves & Beatitude Demos)
is a compilation album by
Bill Mallonee
. It was released in 2014.
Tracklisting
Edit
Farthest Edge Of Town [5:56]
Barstools & Baggage [4:59]
Yeah, Yeah, Yeah (I Got Faith Like A Butterfly's Wings) [5:49]
Bakersfield (Drifter's Song) [5:42]
Pillow Of Stars (full band version) [4:07]
What You Take (And What You Leave Behind) [4:17]
Kid Heart [6:16]
Beggar's Skin (Ever Changing Face) [3:58]
Rural Route [5:14]
Coal Dust Soul [5:40]
Long Since Gone [4:51]
Faith (It All Comes Soaked In Gasoline) [4:55]
From Day One [10:07]
Cowboy Song [5:16]
Between The Heartache (And The Stars I Couldn't Catch) [5:36]
0 people own this album. 

If you own this album, change the number to one higher!

Community content is available under
CC-BY-SA
unless otherwise noted.