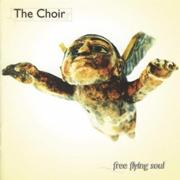 Free Flying Soul
is an album by
The Choir
. It was released in 1996 by Tattoo Records.
Tracklisting
Edit
Salamander
Polar Boy
Sled Dog
Away With The Swine
The Ocean
If You're Listening
The Chicken
Slow Spin
Leprechaun
Yellow-Haired Monkeys
Butterfly
The Warbler
Personnel
Edit
Derri Daugherty - Lead Vocals, Guitars
Steve Hindalong - Drums, Percussion, Lead Vocals
Tim Chandler - Bass, Guitars
Dan Michaels - Lyricon
Background vocals by Jenny Gullen, Marc Byrd, Jerry Chamberlain, and Sharon McCall
Add. Musicians
Wayne Everett - Bongos, Hand Claps
Scott Pearson - Hand Claps
Phil Madeira - Chamberlain Strings, Flutes
Produced by Steve Hindalong and Derri Daugherty
Engineered by Derri Daugherty and Skye McCaskey
Mixed by Paul Salvo and Derri Daugherty
Inspiration and Additional Production by Tim Chandler and Wayne Everett
Cover and Creature Photos by Norman Jean Roy
Art Direction and Design by Jim Dantzler
Art Coordination and Clock Photo by Dan Michaels
Styling and Creature Hunt by Gina Gigglio
External Links
Edit
0 people own this album. 

If you own this album, change the number to one higher!

Community content is available under
CC-BY-SA
unless otherwise noted.