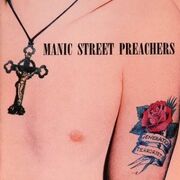 Generation Terrorists
is the debut album by
Manic Street Preachers
. It was released on 10 February 1992.
Tracklisting
Edit
Slash 'n' Burn
Natwest-Barclays-Midlands-Lloyds
Born To End
Motorcycle Emptiness
You Love Us
Love's Sweet Exile
Little Baby Nothing
Repeat (Stars And Stripes)
Tennessee
Another Invented Disease
Stay Beautiful
So Dead
Repeat (UK)
Spectators of Suicide
Damn Dog
Crucifix Kiss
Methadone Pretty
Condemned to Rock 'n' Roll
1 people own this album. 

If you own this album, change the number to one higher!

Community content is available under
CC-BY-SA
unless otherwise noted.