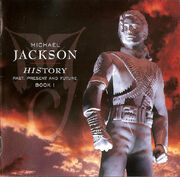 HIStory: Past, Present and Future, Book I is the ninth studio album by American singer Michael Jackson, released on June 20, 1995. It was the fifth Jackson album released through Epic Records, and the first on his label MJJ Productions. It comprises two discs: HIStory Begins, a greatest hits compilation, and HIStory Continues, comprising new material written and produced by Jackson and collaborators. The themes include environmental awareness, isolation, greed, suicide, injustice, and Jackson's conflicts with the media.
Six singles were released: "Scream/Childhood", "You Are Not Alone", "Earth Song", "This Time Around", "They Don't Care About Us", and "Stranger in Moscow". "Smile" was intended to be the seventh single, but was cancelled last minute. "Scream/Childhood" peaked at number five, and became the first song to debut in the top five of the Billboard Hot 100. "You Are Not Alone" was the first song to debut at number one.
HIStory was nominated for five Grammy Awards, winning for Best Music Video – Short Form for "Scream". Though it received generally positive reviews, the lyrics of "They Don't Care About Us" drew accusations of antisemitism; Jackson said the lines had been misinterpreted and replaced them on later pressings.
HIStory debuted at number one in the US and the UK, among other countries. By 1997, it had been certified six times platinum in Europe, making it the year's best-selling album in the combined European market. It had sold more than 20 million copies worldwide by 2010, making it one of the best-selling albums of all time, and the best-selling multi-disc album. In 2001, the greatest hits disc was reissued as Greatest Hits: HIStory, Volume I, and had sold four million copies worldwide by 2010.
"HIStory - Past, Present And Future - Book I" was Michael Jackson's 9th studio album and first published in June 1995. It also included the first officially-called greatest hits compilation on Epic Records. It sold over 40 million copies worldwide and was therefore commercially less successful than his predecessor "Dangerous".
Tracklisting
Edit
Billie Jean
The Way You Make Me Feel
Black Or White
Rock With You
She's Out Of My Life
Bad
I Just Can't Stop Loving You
Man In The Mirror
Thriller
Beat It
The Girl Is Mine
Remember The Time
Don't Stop 'Til You Get Enough
Wanna Be Startin' Somethin'
Heal The World
Scream
They Don't Care About Us
Stranger In Moscow
This Time Around
Earth Song
D.S.
Money
Come Together
You Are Not Alone
Childhood
Tabloid Junkie
2 Bad
HIStory
Little Susie
Smile
Community content is available under
CC-BY-SA
unless otherwise noted.