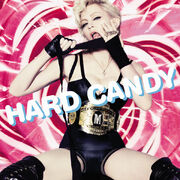 Hard Candy is the eleventh studio album by American singer and songwriter Madonna. It was released on April 19, 2008, by Warner Bros. Records. The album was her final studio album with the record company, marking the end of a 25-year recording history. Madonna started working on the album in early 2007, and collaborated with Justin Timberlake, Timbaland, The Neptunes and Nate "Danja" Hills. The album has an overall R&B vibe, while remaining a pop, dance-pop and hip hop record at its core. The Pet Shop Boys were also asked to collaborate with Madonna on the album by Warner Bros., but the record company later changed their mind and withdrew their invitation.
The singer became interested in collaborating with Timberlake after hearing his 2006 album FutureSex/LoveSounds. Together they developed a number of songs for the album, but the basis of the development was Pharrell Williams' demos. Madonna had a number of songs written down for the album, which amazed Timberlake. They had intensive discussions among themselves before recording a song. Later, Madonna recalled that most of the songs on Hard Candy were autobiographical in many respects. However, according to her this was not intentional and happened while she was in the process of developing the album.
Madonna had initially decided to portray herself as the Black Madonna for the cover art, and call it the same, but later felt the idea may have been seen as controversial. She instead named the album "Hard Candy", which refers to the juxtaposition of toughness and sweetness. Critical reaction to the album were generally favorable, though some reviewers condemned it for its attempt to harness the urban market. On release Hard Candy debuted at number one in 37 countries worldwide, including the United States, Australia, Canada, France, Germany, Japan, Spain and the United Kingdom and became the eleventh best-selling album worldwide of 2008. The album has sold more than 4 million copies worldwide.
Three singles were released from the album. The first, "4 Minutes", was a worldwide success, topping the charts in 21 countries and becoming Madonna's 37th Billboard Hot 100 top-ten hit. Other singles released were "Give It 2 Me" and "Miles Away". To promote the album, Madonna went on a small promotional tour, where she played in three cities in small venues. Furthermore, Madonna embarked on a concert tour, entitled the Sticky & Sweet Tour between 2008 and 2009, which went on to become the highest-grossing concert tour ever by a solo artist.
Tracklisting
Edit
Candy Shop
4 Minutes
Give It 2 Me
Heartbeat
Miles Away
She's Not Me
Incredible
Beat Goes On
Dance 2Night
Spanish Lesson
Devil Wouldn't Recognize You
Voices
Ring My Bell
Community content is available under
CC-BY-SA
unless otherwise noted.