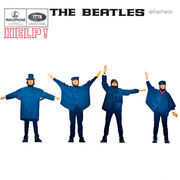 Help! is the fifth album by The Beatles released on August 6 1965 in Britain for Parlophone and on August 13 1965 in the USA for Capitol. It was also the name of The Beatles second movie, and one of their songs on the album. The album contains the most covered song ever, Yesterday.
All songs written and composed by Lennon–McCartney, except where noted.
Side one
No.
Title
Lead Vocals
Length
1.
"Help!"
Lennon
2:18
2.
"The Night Before"
McCartney
2:33
3.
"You've Got to Hide Your Love Away"
Lennon
2:08
4.
"I Need You" (George Harrison)
Harrison
2:28
5.
"Another Girl"
McCartney
2:05
6.
"You're Going to Lose That Girl"
Lennon
2:17
7.
"Ticket to Ride"
Lennon
3:10
Side two
No.
Title
Lead Vocals
Length
1.
"Act Naturally" (Johnny Russell, Voni Morrison)
Starr
2:29
2.
"It's Only Love"
Lennon
1:54
3.
"You Like Me Too Much" (Harrison)
Harrison
2:35
4.
"Tell Me What You See"
McCartney
2:36
5.
"I've Just Seen a Face"
McCartney
2:04
6.
"Yesterday"
McCartney
2:03
7.
"Dizzy Miss Lizzy" (Larry Williams)
Lennon
2:53
1 people own this album. 

If you own this album, change the number to one higher!

Community content is available under
CC-BY-SA
unless otherwise noted.