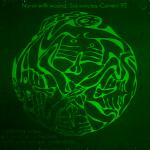 Horse/Lex Talionis/Lumbs Sister
is a split album between
Current 93
,
Sol Invictus
, and
Nurse With Wound
. It was released in 1990 by Cerne Records as a limited edition of 3 vinyl LPs of 2000 copies.
Tracklisting
Edit
Disc 1: (Current 93): HorseEdit
Diana
The Death Of The Corn
Tree
Horse
Disc 2: (Sol Invictus): Lex TalionisEdit
Lex Talionis
Black Easter
Kneel To The Cross
The Ruins
Tooth And Claw
Blood Against Gold
Fields
Reynardine
Abbatoirs Of Love
Heroes Day
Rex Talionis
Disc 3: (Nurse With Wound): Lumbs SisterEdit
Lumbs Sister Part 1
Lumbs Sister Part 2
Lumbs Sister Part 9
Lumbs Sister Part 14
0 people own this album. 

If you own this album, change the number to one higher!

Community content is available under
CC-BY-SA
unless otherwise noted.