Album Wiki staff is considering to mark this album as recommended. 
Click here for more details.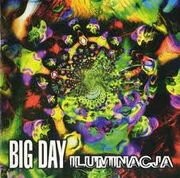 Iluminacja
is the fourth studio album by the Polish rock band
Big Day
. It was completely recorded in the analogue system and included the Polish hit single "W dzień gorącego lata", which was written when bassist/singer Marcin Ciurapiński was 17. As usual for Big Day, there were two bonus tracks. They were "Oddalam się" and "Indy-rave". Iluminacja was produced by Tomasz Bonarowski, who also played trumpet on the tracks "W dzień gorącego lata" and "Iluminacja". The album also featured some orchestration such as strings/string synths on the title track, "Jak to jest" and "Zapach ognia" as well as harps on "Pożegnanie". The album was recorded between 1 March and 10 April 1997 and was released in September of that year.
Tracklisting
Edit
W dzień gorącego lata
Ocsid
A ty tylko...
Musicians
Edit
Anna Zalewska-Ciurapińska - vocals
Marcin Ciurapiński - bass guitar, acoustic guitars, keyboards. percussion, vocals
Damian Nowak - drums and percussion
Wojciech Olkowski - guitars
Piotr Szymański - guitars, keyboards on the track "Ocsid"
Tomasz Bonarowski - trumpets, keyboards [guest]
Release information
Edit
Izabelin Studio 532 428-2
External links
Edit
Day/Iluminacja Album tab on Tabs and Chords Wiki
1 people own this album. 

If you own this album, change the number to one higher!