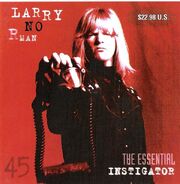 Instigator
is a compilation album by
Larry Norman
. It was released in 2002 by Solid Rock Records.
Tracklisting
Edit
Lonely Boy
Born To Be Unlucky
Moses In The Wilderness
Hard Luck, Bad News
Walking Backwards Down The Stairs
Pardon Me
Soul Survivor
Looking For The Footprints
Baroquen Spirits
I Don't Believe In Miracles
Sigrid Jane
I Am A Servant
Nothing Really Changes
Strong Love, Strange Peace
Ha Ha World
Forget Your Hexagram
Feeling So Bad
Let That Tape Keep Rolling
I Think I Love You
With A Love Like Yours
Up In Canada
Lonely By Myself
Christmastime
Butterfly
Kulderachna
0 people own this album. 

If you own this album, change the number to one higher!

Community content is available under
CC-BY-SA
unless otherwise noted.