Kissing To Be Clever
is the 1982 debut album by
Culture Club
.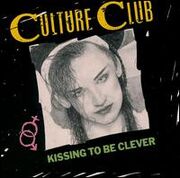 Tracklisting
Edit
All songs written by Culture Club.
Side One
"White Boy" [Dance Mix] – 4:40
"You Know I'm Not Crazy" – 3:36
"I'll Tumble 4 Ya" – 2:36
"Take Control" – 3:09
"Love Twist" [Featuring Captain Crucial] – 4:23
Side Two
"Boy Boy (I'm the Boy)" – 3:50
"I'm Afraid of Me" [Remix] – 3:16
"White Boys Can't Control It" – 3:43
"Do You Really Want to Hurt Me" – 4:22
Later releases have "Do You Really Want to Hurt Me" as the opening track of Side 2 (#6), and "Time (Clock of the Heart)" as the final song (#10).
0 people own this album. 

If you own this album, change the number to one higher!

Community content is available under
CC-BY-SA
unless otherwise noted.