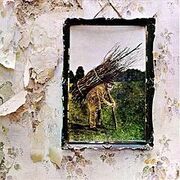 The fourth album by the English rock band
Led Zeppelin
was released on November 8,
1971
on
Atlantic Records
. No title is printed on the album, so it is generally referred to as
Led Zeppelin IV
, following the naming standard used by the band's first three studio albums. The album has alternatively been referred to as
ZOSO
,
Four Symbols
,
The Fourth Album
(those two titles each having been used in the Atlantic catalogue),
Untitled
,
The Runes
,
The Hermit
,
and ZoSo, the latter of which is derived from the symbol used by Jimmy Page for the album sleeve. Z o So has subsequently been used as moniker for Jimmy Page.
Upon its release, Led Zeppelin IV was a commercial and critical success. The album is one of the best-selling albums worldwide at 32 million units. It has shipped over 23 million units in the United States alone, making it the third-best-selling album ever in the US. In 2003, the album was ranked 66th on Rolling Stone magazine's list of "The 500 Greatest Albums of All Time".
Tracklisting
Edit
1. "Black Dog"
2. "Rock and Roll"
3. "The Battle of Evermore"
4. "Stairway to Heaven"
5. "Misty Mountain Hop"
6. "Four Sticks"
7. "Going to California"
8. "When The Levee Breaks"
External Links
Edit
2 people own this album. 

If you own this album, change the number to one higher!

Community content is available under
CC-BY-SA
unless otherwise noted.