Livemiles
(sometimes written as Live Miles) is a
live album
by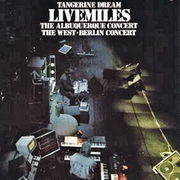 German
krautrock
band
Tangerine Dream
. It was released in 1988. The first half of the album purports to be a recording of the June 8, 1986 concert in Albuquerque, New Mexico, USA. The second half of the album is a remixed version of part of the August 1, 1987 concert in West Berlin, Germany.
Tracklisting
Edit
"Livemiles Part One" - 29:52
"Livemiles Part Two" - 27:13
0 people own this album. 

If you own this album, change the number to one higher!