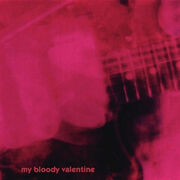 Loveless
is the second album released by Irish
shoegaze
group
My Bloody Valentine
. It was released by
Creation Records
on 4 November
1991
. It is rumoured to have almost bankrupted the band's label, and remains the band's most popular album to date.
Tracklisting
Edit
Only Shallow [4:17]
Loomer [2:38]
Touched [0:57]
To Here Knows When [5:31]
When You Sleep [4:11]
I Only Said [5:34]
Come In Alone [3:58]
Sometimes [5:19]
Blown A Wish [3:36]
What You Want [5:33]
Soon [6:58]
All songs written by Kevin Shields except:
Only Shallow,  Loomer,  To Here Knows When  and  Blown A Wish,  written by Kevin Shields and Bilinda Butcher;
Touched,  written by Colm Ó Cíosóig.
1 people own this album. 

If you own this album, change the number to one higher!

Community content is available under
CC-BY-SA
unless otherwise noted.