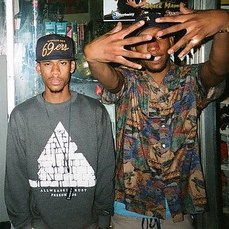 MellowHype is a two-man sub-group of the hip-hop collective Odd Future, consistings of rapper Hodgy Beats and producer Left Brain. They formed in 2008 and currently have three studio albums and appearances in many of the main Odd Future mixtapes and studio albums.
Discography
Edit
MELLOWHYPEWEEK
MellowHigh (with Domo Genesis as MellowHigh)
MELLOWHYPEWEEK2 (TBA)
Community content is available under
CC-BY-SA
unless otherwise noted.