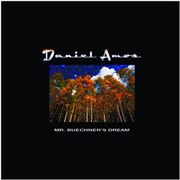 Mr. Buechner's Dream
is an album by
Daniel Amos
. It was released in 2001.
Tracklisting
Edit
This Is The One
Mr. Buechner's Dream
The Author Of The Story
Your Long Year
Who's Who Here
Thick Skin
Ribbons And Bows
Ordinary Extraordinary Day
I Get To Wondering
Faithful Street
The Lucky Ones
Rice Paper Wings
The Tale You Told
Meanwhile
Over Her Shoulder
The Staggering Gods
A Little Grace
My Beautiful Martyr
Mr. Buechner Wakes Up
Joel
Pretty Little Lies
Child On A Leash
Small Great Things
Easy For You
Maybe All I Need
Pregnant Pause
She's A Hard Drink
So Far So Good
Flash In Your Eyes
Nobody Will
Fingertips
Steal Away
And So It Goes
0 people own this album. 

If you own this album, change the number to one higher!

Community content is available under
CC-BY-SA
unless otherwise noted.