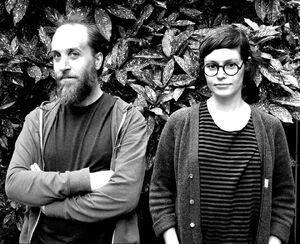 Nadja is a duo of Aidan Baker (guitars/vocals/piano/woodwinds/drums) and Leah Buckareff (bass/vocals). Nadja began in 2003 as a solo project for Baker to explore the heavier/noisier side of his experimental/ambient music performed mainly on the electric guitar. In 2005 Buckareff joined in order to make the project more than just a studio endeavour and to allow Nadja to perform live.
The duo combines soundscape, electronics and atmospheric vocals with slow, epic riffs and dirge-like percussion, creating a slowly moving grand wall of music that has been described as drone, ambient-doom, and shoegazer-metal. Aidan noted that they prefer to call their style of music "ambient metal" or "ambient doom", though he's fond of the term "dreamsludge" as well.
Discography
Edit
Community content is available under
CC-BY-SA
unless otherwise noted.