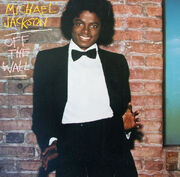 Off the Wall is the fifth solo studio album by American singer Michael Jackson, released on August 10, 1979 in the United States by Epic Records and internationally by CBS Records. It was Jackson's first album released through Epic Records, the label he recorded under until his death in 2009, and the first produced by Quincy Jones, whom he met while working on the 1978 film The Wiz. Several critics observed that Off the Wall was crafted from funk, disco, soft rock, Broadway and pop ballads. Its lyrical themes include escapism, liberation, loneliness, hedonism and romance.
Off the Wall peaked at number three on the Billboard 200 and was an enormous commercial success, with Billboard additionally ranking it as the third best-selling album of 1980. Five singles were released from the album, three with music videos. Jackson wrote three songs himself, including the number-one single "Don't Stop 'Til You Get Enough". The second single from the album, "Rock with You" also peaked atop the Billboard Hot 100. With Off the Wall, Jackson became the first solo artist to have four singles from the same album peak inside the top 10 of the Billboard Hot 100. The record was a departure from Jackson's previous work for Motown Records, and was hailed as a major breakthrough for Jackson, while receiving critical recognition, along with praises, from major music publications.
Off the Wall was nominated for two Grammy Awards, with Jackson winning Best Male R&B Vocal Performance for "Don't Stop 'Til You Get Enough" which was his first Grammy Award. As of 2018, Off the Wall is certified eight times platinum in the United States and has reportedly sold more than 20 million copies worldwide, making it one of the best-selling albums of all time. Often considered one of the best disco albums of all time, the album was placed at number 68 on Rolling Stone list of "The 500 Greatest Albums of All Time" in 2003. The National Association of Recording Merchandisers listed it at number 80 on its list of the "Definitive 200 Albums of All Time". In 2008, Off the Wall was inducted into the Grammy Hall of Fame.
Tracklisting
Edit
Don't Stop 'Til You Get Enough
Rock with You
Working Day and Night
Get on the Floor
Off the Wall
Girlfriend
She's Out of My Life
I Can't Help It
It's the Falling in Love
Burn This Disco Out
Community content is available under
CC-BY-SA
unless otherwise noted.