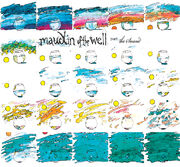 Part The Second
is an album by
maudlin of the Well
, released in 2009.
Tracklisting
Edit
Excerpt From 6,000,000,000,000 Miles Before The First, Or, The Revisitation Of The Blue Ghost
Another Excerpt: Keep The Light Near You, Even When Dying
Rose Quartz Turning To Glass
Clover Garland Island
Laboratories of the Invisible World (Rollerskating the Cosmic Palmistric Postborder)
Produced by Toby Driver.
All music by maudlin of the Well.
Lyrics by Jason Byron and Toby Driver.
All Artwork by Toby Driver. Web design and dev by Sam Gutterman and Toby Driver.
Recorded and Mixed by Jim Fogarty at Zing, Westfield MA, February - March 2009.

Mastered by Mell Dettmer at Sinister Kitchen, Seattle WA, April 2009.

The Band:
Toby Driver - guitar, baritone guitar, bass guitar, vocals, hand claps
Sam Gutterman - drums, bass guitar, other percussion, hand claps
Terran Olson - flute, clarinet, alto and baritone saxophone, piano, organ, synths, hand claps
Greg Massi - guitar
Josh Seipp-Williams - guitar

Special Guest Musicians:

Mia Matsumiya - violin
David Bodie - orchestral percussion & hand claps
Madeleine Craw - cello
Jim Fogarty - hammond elbow
EXECUTIVELY PRODUCED by a generous and supportive group of 87 fans. Please click here (maudlinofthewell.net/producers) for a list of the names.
1 people own this album. 

If you own this album, change the number to one higher!

Community content is available under
CC-BY-SA
unless otherwise noted.