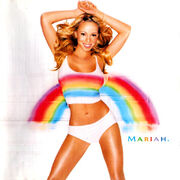 Rainbow is the seventh studio album by American singer and songwriter Mariah Carey. It was released on November 2, 1999, by Columbia Records. The album followed the same pattern as Carey's previous two albums, Daydream (1995) and Butterfly (1997), in which she began her transition into the urban market. Rainbow contains a mix of hip hop-influenced R&B jams, as well as a variety of slow ballads. On the album, Carey worked with David Foster and Diane Warren, who, as well as Jimmy Jam & Terry Lewis, replaced Walter Afanasieff, the main balladeer Carey worked with throughout the 90s. As a result of her separation from her husband, Tommy Mottola, Carey had more control over the musical style of this album, so she collaborated with several artists such as Jay-Z, Usher, and Snoop Dogg, as well as Missy Elliott, Joe, Da Brat, Master P, 98°, and Mystikal.
On Carey's previous album, Butterfly, she began incorporating several other genres, including R&B and hip hop, into her musical repertoire. In order to further push her musical horizons, Carey featured Jay-Z on the album's lead single, the first time in her career that another artist was featured on one of her lead singles. Carey wrote ballads that were closer to R&B than pop for this album, and worked with Snoop Dogg and Usher on songs such as "Crybaby" and "How Much," both of which featured strong R&B beats and grooves. Several of the ballads that Carey wrote during this period, including "Thank God I Found You" (written with Terry Lewis) and "After Tonight" (written with Diane Warren), mirrored sentiments she experienced in her personal life.
Five singles were released from the album. The album's lead single, "Heartbreaker" featuring Jay-Z, became Carey's fourteenth number-one hit on the Billboard Hot 100, and topped the charts in Canada, New Zealand, France and Spain. "Thank God I Found You," featuring Joe and 98 Degrees, also topped the Hot 100, but achieved moderate international charting. The next two singles, "Can't Take That Away (Mariah's Theme) and "Crybaby" featuring Snoop Dogg, were released as a double A-side. The songs were at the center of a public feud in between Carey and Sony due to Sony's alleged weak promotion of the singles. Carey's cover of Phil Collins' "Against All Odds (Take a Look at Me Now)" with Westlife peaked at number one in Ireland and the United Kingdom.
Rainbow was well received by critics, who generally praised Carey's embrace of R&B and hip hop in her music. The album debuted at number two on the Billboard 200, with first week sales of 323,000. It was her first album in years to not reach number one. However, within a month, Rainbow was certified triple-Platinum by the Recording Industry Association of America (RIAA), denoting shipments of three million copies within the United States. Internationally, the album debuted atop the charts in France, and within the top five in Australia, Austria, Belgium, the Netherlands, Germany, Japan, and Switzerland. The album has sold an estimated eight million copies worldwide.
Tracklisting
Edit
Heartbreaker
Can't Take That Away (Mariah's Theme)
Bliss
How Much
After Tonight
X-Girlfriend
Heartbreaker (Remix)
Vulnerability (Interlude)
Against All Odds (Take a Look at Me Now)
Crybaby
Did I Do That?
Petals
Rainbow (Interlude)
Thank God I Found You
Theme from Mahogany (Do You Know Where You're Going To)
Community content is available under
CC-BY-SA
unless otherwise noted.