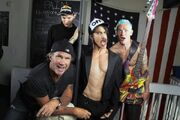 This page is about the band. For their debut album, see The Red Hot Chili Peppers.
Red Hot Chili Peppers are an American funk rock band formed in Hollywood, California in 1983. The current line-up of the band is Anthony Kiedis (vocals), Flea (bass), Chad Smith (drums) and Josh Klinghoffer (guitar).
The band was known as The Red Hot Chili Peppers for their first few albums, but then dropped the "The" from their name. The original members were Anthony Kiedis (vocals), Micheal "Flea" Balzary (bass guitar), Hillel Slovak (guitar) and Jack Irons (drums). However, Slovak and Irons did not appear on the band's debut album, The Red Hot Chili Peppers, as they were already comitted to another band, and eventually Flea and Kiedis hired guitarist Jack Sherman and drummer Cliff Martinez. Slovak returned for the band's second album, Freaky Styley, and The Uplift Mofo Plan marked the return of Jack Irons. However, the original line-up was once again short-lived, as in June 1988 Hillel Slovak died of drug overdose. Jack Irons left the band and would not join another band, until joining Pearl Jam later after battling years of depression. Guitarist John Frusciante and drummer Chad Smith were inducted into the band, and this line-up would prove to be the longest lasting. 1989's Mother's Milk and especially 1991's Blood Sugar Sex Magik, the first Red Hot Chili Peppers album produced by Rick Rubin, who would also produce the rest of the band's albums (as of now), shot the band to fame. However, John Frusciante became uncomfortable with the band's new-found success, quitting mid-tour in 1992. The band recruited Jane's Addiction guitarist Dave Navarro. The band began work on their next album, One Hot Minute. The album was eventually released in 1995. Soon, Navarro was fired for "creative differences" and in 1998 Frusciante returned to the band. A year later, Red Hot Chili Peppers released their seventh album, Californication to commercial success and critical acclaim. 2002's By The Way saw a change in the band's direction, with a more mellow rock sound, instead of the funk rock they had mostly been playing previously (though their previous two albums already had less funk than their earlier releases). The 2006 double album Stadium Arcadium was the last album to feature John Frusciante, who quit for a second time during the band's short hiatus after the tour in support of the new album. Josh Klinghoffer, who was a second guitarist during the Stadium Arcadium tour, and a friend of Frusciante, has since then been the guitarist. The band's most recent album, I'm With You, was released in 2011.
Discography
Edit
Community content is available under
CC-BY-SA
unless otherwise noted.