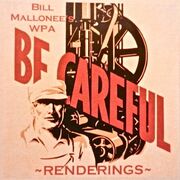 Renderings (A WPA Vols. 1-4 Retrospective)
is a compilation album by
Bill Mallonee
. It was released in 2013.
Tracklisting
Edit
The Ghosts That I Run With [4:37]
Farthest Edge Of Town [5:56]
Break In The Clouds [4:56]
BONE (The Stars I Couldn't Catch) [5:36]
Talk Around [2:54]
Bottoming Out [6:28]
Pillow Of Stars [4:07]
The Years The River Bears Away [5:20]
For One Reason Or Another [5:03]
Plowshares Into Swords [4:27]
Into Our Own Skin [3:44]
(With Souls As Big As) Western Sky [3:39]
String Of Pearls (live) [6:10]
The Last Word [6:04]
0 people own this album. 

If you own this album, change the number to one higher!

Community content is available under
CC-BY-SA
unless otherwise noted.