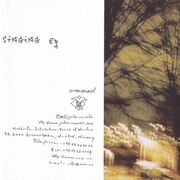 Silencing the Singing is an EP by Norwegian experimental musical group Ulver. Recorded and mixed in December 4th, 2001, the EP was issued by Jester Records in December 2001, limited to 3000 copies. Loosely recorded during the sessions for the Perdition City, together with Silence Teaches You How to Sing, the EP is a subtle counterpart to the more dramatic full-length, issued in March 2000.
The style is more experimental/atmospheric and less beat-oriented; rather mood pieces that revolve around the Perdition City theme. Due to the experimental nature of the music, both Silence EP's were limited to two thousand, and three thousand copies. However, both Silence Teaches You How to Sing and Silencing the Singing EP's were re-released as one disc, issued through American independent label Black Apple Records, under the title Teachings in Silence, in November 2002.
Tracklisting
Edit
Darling Didn't We Kill You? - 8:52
Speak Dead Speaker - 9:33
Not Saved - 10:29
0 people own this album. 

If you own this album, change the number to one higher!

Community content is available under
CC-BY-SA
unless otherwise noted.