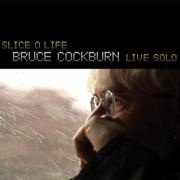 Slice O' Life
is a live album by
Bruce Cockburn
. It was released in 2009.
Tracklisting
Edit
Applause
World Of Wonders
Lovers In A Dangerous Time
The Mercenary
See You Tomorrow
Last Night Of The World
How I Spent My Fall Vacation
Tibetan Side Of Town
Pacing The Cage
Bearded Folksinger
The End Of All Rivers
Soul Of A Man
Wait No More
The City Is Hungry
Put It In Your Heart
Tramp In The Street
Wondering Where The Lions Are
If A Tree Falls
Celestial Horses
If I Had A Rocket Launcher
Child Of The Wind
Tie Me At The Crossroads
12-String Warm Up (Sound Check)
Kit Carson (Sound Check)
Mama Just Wants To Barrelhouse All Night Long (Sound Check)
0 people own this album. 

If you own this album, change the number to one higher!

Community content is available under
CC-BY-SA
unless otherwise noted.