Smiley Smile
is the twelfth studio album by
The Beach Boys
.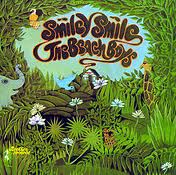 It was released in 1967 instead of the planned and much-discussed
Smile
(which was eventually released later), as the follow-up to the acclaimed
Pet Sounds
.
Brian Wilson
, the leader of the band, had gotten into drug problems, and so he cacelled the
Smile
project.
Smiley Smile
was a critical and commercial failure. The album has gained some popularity over the years though (it notably contains the hit singles
Heroes and Villains
and
Good Vibrations
).
Tracklisting
Edit
Side one
No.
Title
Writer(s)
Lead Vocals
Length
1.
"Heroes and Villains"
Brian Wilson/Van Dyke Parks
B. Wilson/Al Jardine
3:37
2.
"Vegetables"
B. Wilson/Parks
Jardine/B. Wilson/Mike Love
2:07
3.
"Fall Breaks and Back to Winter (W. Woodpecker Symphony)"
B. Wilson
instrumental
2:15
4.
"She's Goin' Bald"
B. Wilson/Love/Parks
B. Wilson/Love/Dennis Wilson/Jardine
2:15
5.
"Little Pad"
B. Wilson
Love/Carl Wilson/B. Wilson
2:30
Side two
No.
Title
Writer(s)
Lead Vocals
Length
1.
"Good Vibrations"
B. Wilson/Love
C. Wilson/B. Wilson/Love
3:36
2.
"With Me Tonight"
B. Wilson
C. Wilson
2:17
3.
"Wind Chimes"
B. Wilson
Love/B. Wilson/C. Wilson/D. Wilson
2:36
4.
"Gettin' Hungry"
B. Wilson/Love
Love/B. Wilson
2:27
5.
"Wonderful"
B. Wilson/Parks
C. Wilson
2:21
6.
"Whistle In"
B. Wilson
C. Wilson/Love
1:04