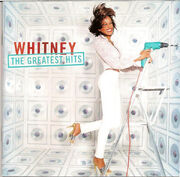 Whitney: The Greatest Hits is a compilation album by American singer Whitney Houston, released in May 2000. The set consists of disc one with ballads and disc two with uptempo numbers and remixes. Houston's performance of "The Star-Spangled Banner" at Super Bowl XXV, and 1988 Olympics tribute "One Moment in Time" are also included in the set. The collection includes four new songs—"Could I Have This Kiss Forever", duet with Enrique Iglesias, "If I Told You That", duet with George Michael, "Same Script, Different Cast", duet with Deborah Cox and "Fine"—all of which were released as singles. It also includes three other songs that had never appeared on a Houston album: "One Moment in Time", "The Star Spangled Banner", and "If You Say My Eyes Are Beautiful", a duet with Jermaine Jackson from his 1986 Precious Moments album. Along with the album, an accompanying VHS and DVD was released featuring the music videos to Houston's greatest hits, as well as several hard-to-find live performances including her 1983 debut on The Merv Griffin Show, and interviews.
Houston's compilation album had been in development for several years. As early as 1995, Billboard Magazine listed Houston's Greatest Hits album as an upcoming release scheduled for October of that year. Billboard magazine mentioned a "long-promised" Greatest Hits collection again in July 1996, this time due that autumn. Speculation on the timing of the release continued into 1997, with Houston quoted that year as saying: "Oh, Clive is on my case about this greatest hits album. He's like, Whitney, we have to do a greatest hits album, I mean you're far long overdue."
Upon its release Whitney: The Greatest Hits was a commercial success, but it received mixed reviews from music critics. Many complained about the inclusion of remixes on disc two, instead of their original versions. It peaked within top ten in most European countries, United States, Canada, Australia and New Zealand, and received numerous platinum and multiplatinum awards.The IFPI also certified it three times platinum in 2000 for sales exceeding 3 million copies in Europe.
After Houston's passing in February 2012, it saw resurgence in sales and re-entered album charts in many countries in Europe and in North America. In the United States, it reached a new peak of number two on the Billboard 200. In July 2012, it was certified five times platinum by the Recording Industry Association of America for sales exceeding 2.5 million in the United States, because it's a double disc album, its CDs are therefore counted separately for certification purposes, meaning the album achieved platinum status in the United States after 500,000 copies were shipped, not one million.
In the United States, copies sold at Circuit City stores included a third disc containing new club remixes. Whitney: The Unreleased Mixes is a limited-edition four-record vinyl set, containing eight full club versions of selected remixes found on the American release. In June 2006, it was released digitally and re-titled Dance Vault Mixes: Whitney Houston – The Unreleased Mixes (Collector's Edition). In January 2011, the album was re-issued in Europe, Canada, Australia and New Zealand with the international track listing, but the set was re-titled as The Essential Whitney Houston, as part of Sony Legacy's The Essential series. In addition to the title change, the re-release also features different artwork. The cover picture of the original release was taken by David LaChapelle.
Tracklisting
Edit
Saving All My Love For You
Greatest Love Of All
One Moment In Time
I Have Nothing
I Will Always Love You
Run To You
You Give Good Love
All At Once
Where Do Broken Hearts Go
If You Say My Eyes Are Beautiful
Didn't We Almost Have It All
All The Man That I Need
Exhale (Shoop Shoop)
Count On Me
I Believe In You And Me
I Learned From The Best
Same Script, Different Cast
Could I Have This Kiss Forever (Metro Mix)
If I Told You That
Fine
My Love Is Your Love
It's Not Right But It's Okay
Heartbreak Hotel
Step By Step
Queen Of The Night (CJ Mackintosh Mix)
I'm Every Woman
Love Will Save The Day
I'm Your Baby Tonight
So Emotional
I Wanna Dance With Somebody (Who Loves Me)
How Will I Know
I Will Always Love You (Hex Hector Mix)
Greatest Love Of All (Club 69 Mix)
It's Not Right But It's Okay (Thunderpuss Mix)
I'm Your Baby Tonight (Dronez Mix)
So Emotional (David Morales Emotional Club Mix)
Community content is available under
CC-BY-SA
unless otherwise noted.