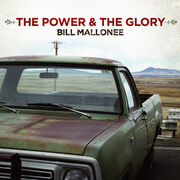 The Power & The Glory
is an album by
Bill Mallonee
. It was released in 2011.
Tracklisting
Edit
Carolina, Carolina [5:21]
The Shakers & Movers [4:24]
Just To Feel The Heat [4:18]
From The Beats Down To The Buddha [5:50]
Go To Sleep With The Angels [4:17]
The Ghosts That I Run With [4:23]
Stop Breakin' Down [3:49]
Bring You Around [4:33]
Spring In Your Spirit [4:27]
Keep The Home Fires Burning [4:44]
Ever Born Into This World [4:37]
Wide Awake With Orphan Eyes [6:07]
0 people own this album. 

If you own this album, change the number to one higher!

Community content is available under
CC-BY-SA
unless otherwise noted.