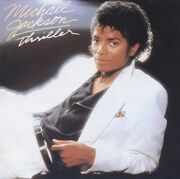 Thriller is the sixth studio album by American recording artist Michael Jackson. It was released on November 30th, 1982, by Epic Records as the follow-up to Jackson's critically and commercially successful 1979 album Off the Wall. Thriller explores similar genres to those of Off the Wall, including pop, R&B, rock and post-disco music.
Recording sessions took place between April and November 1982 at Westlake Recording Studios in Los Angeles, California, with a production budget of $750,000, assisted by producer Quincy Jones. Of the nine tracks on the album, 4 of them were written by Jackson himself. Seven singles were released from the album, all of which reached the Top 10 on the Billboard Hot 100. "Baby Be Mine" and "The Lady in My Life" were the only tracks that were not released as singles. In just over a year, Thriller became—and currently remains—the best-selling album of all time, with 110 million copies sold worldwide, and is also tied for the best-selling album in the United States. The album won a record-breaking eight Grammy Awards at the 1984 Grammys.
Thriller enabled Jackson to break down racial barriers via his appearances on MTV and meeting with President Ronald Reagan at the White House. The album was one of the first to use music videos as successful promotional tools—the videos for Thriller, Billie Jean and Beat It all received regular rotation on MTV. In 2001, a special edition issue of the album was released, which contains additional audio interviews, a demo recording and the song "Someone In the Dark", which was a Grammy-winning track from the E.T. the Extra-Terrestrial storybook. In 2008, the album was reissued again as Thriller 25, containing re-mixes that feature contemporary artists, a previously unreleased song and a DVD.
Thriller ranked number 20 on Rolling Stone magazine's 500 Greatest Albums of All Time list in 2003, and was listed by the National Association of Recording Merchandisers at number three in its Definitive 200 Albums of All Time. The Thriller video was preserved by the Library of Congress to the National Recording Registry, as it was deemed "culturally significant".
Tracklisting
Edit
Side one
No.
Title
Writer(s)
Length
1.
"Wanna Be Startin' Somethin'"
Michael Jackson
6:03
2.
"Baby Be Mine"
Rod Temperton
4:20
3.
"The Girl Is Mine" (featuring Paul McCartney)
Michael Jackson
3:42
4.
"Thriller" (rap by Vincent Price)
Rod Temperton
5:57
Side two
No.
Title
Writer(s)
Length
5.
"Beat It" (featuring Eddie Van Halen on guitar)
Michael Jackson
4:18
6.
"Billie Jean"
Michael Jackson
4:54
7.
"Human Nature"
Steve Porcaro, John Bettis
4:06
8.
"P.Y.T. (Pretty Young Thing)"
James Ingram, Quincy Jones
3:59
9.
"The Lady in My Life"
Rod Temperton
5:00
1 people own this album. 

If you own this album, change the number to one higher!

Community content is available under
CC-BY-SA
unless otherwise noted.