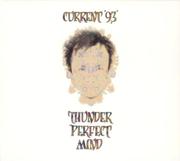 Thunder Perfect Mind
is an album by
Current 93
. It was released by Durtro Records in 1992.
Tracklisting
Edit
A Beginning [0:44]
The Descent Of Long Satan And Babylon [3:00]
A Sadness Song [4:14]
A Song For Douglas After He's Dead [4:58]
In The Heart Of The Wood and What I Found There [2:50]
Mary Waits In Silence [2:56]
A Silence Song [5:27]
A Lament For My Suzanne [4:20]
Riverdeadbank [3:46]
All The Stars Are Dead Now [9:06]
Rosy Star Tears from Heaven [3:05]
When The May Rain Comes [3:24]
Thunder Perfect Mind I [5:05]
Thunder Perfect Mind II [2:21]
Hitler As Kalki (SDM) [16:28]
A Sad Sadness Song [4:40]
An Ending [2:21]
0 people own this album. 

If you own this album, change the number to one higher!

Community content is available under
CC-BY-SA
unless otherwise noted.