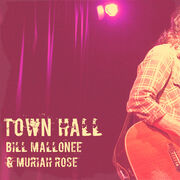 Town Hall
is a live album by
Bill Mallonee
and Muriah Rose. It was released in 2013.
Tracklisting
Edit
Solar System [4:34]
From Day One [4:46]
Fight Song [5:01]
Faith (Comes Soaked In Gasoline) [3:49]
Rural Route [5:22]
Bottoming Out [5:29]
Ghost Waltz [4:40]
Barstools & Baggage (Debtor's Soul) [4:23]
Resplendent [5:41]
Rio Grande [4:52]
0 people own this album. 

If you own this album, change the number to one higher!

Community content is available under
CC-BY-SA
unless otherwise noted.