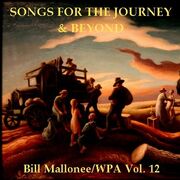 WPA Vol. 12 Songs For The Journey & Beyond
is an album by
Bill Mallonee
from the WPA series. It was released in 2012.
Tracklisting
Edit
California Wave [3:56]
Barstools & Baggage (Debtor's Soul) [4:59]
Bottoming Out [6:28]
Pillow Of Stars [4:07]
Lay Of The Land (Took Me As I Am) [5:59]
Tryin' To Walk It Off [4:23]
Man Of Words (Runs Outta Thing To Say) [5:27]
New Year's Eve (I Can Barely Hear It) [4:50]
Kid Heart [6:16]
Life I Never Lived [4:54]
0 people own this album. 

If you own this album, change the number to one higher!

Community content is available under
CC-BY-SA
unless otherwise noted.