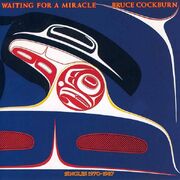 Waiting For A Miracle: Singles 1970-1987
is a compilation album by
Bruce Cockburn
. It was released in 1987 by True North Records.
Tracklisting
Edit
Going To The Country [3:12]
Musical Friends [2:54]
One Day I Walk [3:06]
It's Going Down Slow [3:31]
Up On The Hillside [3:00]
Feet Fall On The Road [2:41]
Mama Just Wants To Barrelhouse All Night Long [6:24]
All The Diamonds [2:40]
Burn [3:50]
Silver Wheels [4:41]
I'm Gonna Fly Someday [4:02]
Vagabondage [4:20]
Free To Be [2:29]
Laughter [3:30]
Wondering Where The Lions Are [3:39]
Tokyo [3:26]
Fascist Architecture [4:04]
The Trouble With Normal [3:17]
Rumours Of Glory [5:02]
The Coldest Night Of The Year [3:58]
Wanna Go Walking [2:52]
You Pay Your Money You Take Your Chance [4:17]
Tropic Moon [4:38]
Candy Man's Gone [4:06]
Lovers In A Dangerous Time [4:06]
If I Had A Rocket Launcher [4:59]
Making Contact [3:46]
Peggy's Kitchen Wall [3:42]
People See Through You [3:44]
Call It Democracy [3:50]
See How I Miss You [4:01]
Stolen Land [5:23]
Waiting For A Miracle [4:48]
0 people own this album. 

If you own this album, change the number to one higher!

Community content is available under
CC-BY-SA
unless otherwise noted.