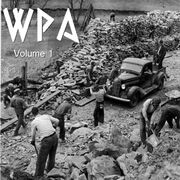 Works (in) Progress Administration Vol. 1
is an EP by
Bill Mallonee
. It was released in 2008. It was the start of the series
WPA
.
Tracklisting
Edit
Pillow Of Stars [4:09]
Bottoming Out [6:28]
For One Reason Or Another [5:05]
The Last Word [6:06]
Old Paint [5:07]
Brand New Skin (alt. mix) [3:57]
0 people own this album. 

If you own this album, change the number to one higher!

Community content is available under
CC-BY-SA
unless otherwise noted.