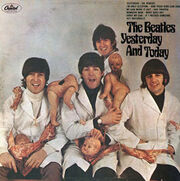 Yesterday And Today
was an album released in America by
The Beatles
on 20 June 1966. It was known for its contoversial cover which was pulled from stores quickly after its release and redone. The original copies of the album are worth tons of money today. Yesterday and Today featured songs from the albums
Help!
,
Rubber Soul
and
Revolver
, as well as both songs from the single
Day Tripper/We Can Work It Out
.
Track listing
Edit
All songs are credited to John Lennon and Paul McCartney, except where noted.
"Drive My Car" [2:30]
"I'm Only Sleeping" [3:01]
"Nowhere Man" [2:45]
"Doctor Robert" [2:15]
"Yesterday" [2:08]
"Act Naturally" [2:33] (Written by Morrison–Russell)
"And Your Bird Can Sing" [2:01]
"If I Needed Someone" [2:24] (Written by George Harrison)
"We Can Work It Out" [2:15]
"What Goes On" [2:51] (Written by John Lennon, Paul McCartney, and Richard Starkey)
"Day Tripper" [2:50]
0 people own this album. 

If you own this album, change the number to one higher!