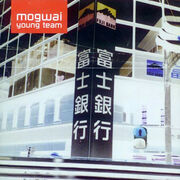 Young Team
is the debut studio album by
Mogwai
.
Tracklisting
Edit
Yes! I Am a Long Way from Home [5:57]
Like Herod [11:41]
Katrien [5:24]
Radar Maker [1:35]
Tracy [7:19]
Summer (Priority Version) [3:28]
With Portfolio [3:10]
R U Still in 2 It [7:20]
A Cheery Wave from Stranded Youngsters [2:18]
Mogwai Fear Satan [16:19]
0 people own this album. 

If you own this album, change the number to one higher!

Community content is available under
CC-BY-SA
unless otherwise noted.